Sunday School
We have Sunday School during the school year for kids from age potty-trained to grade 5. They join us for worship at 10 and stay through the pastor's Children of God message, then are dismissed to classroom for their lesson, art, etc. Oftentimes the lessons are incorporated into service projects. In the past the kids have collected items for the Ronald McDonald House, toys for needy children at Christmas, etc.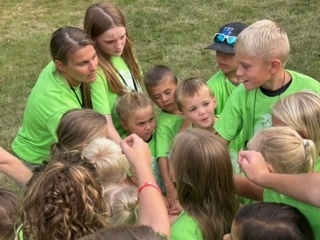 Kid's WOW
Kids WOW meets every Wednesday of the month during the school year from 5:30-7:00 for games, art, lessons, and a light meal. Registration for WOW is required. WOW will begin on Wednesday, September 13th.
Vacation Bible School
Vacation Bible School is held the first week of August in the evening and includes a light meal. Children are invited to worship the Sunday following to tell us what they have learned, share songs, and expand any mission projects. Register HERE for 2023
Confirmation Classes
Confirmation classes are held and led by the pastor when a group reaches the age of 6th grade or older.  Classes run from October through April. Youth are invited to join the church through confirmation on that year's Pentecost Sunday.
Our church offers scholarships to either denomination's church camps. We are privileged to have affiliation with both the Christian Conference Center near Newton, Iowa and Camp Wyoming near Wyoming, Iowa. Both camps offer opportunities for adults as well as youth.